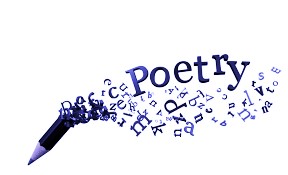 Hutchinson Public Library Poetry Activity:
This Community Poetry is an all-ages activity. By submitting your poem(s) to the Hutchinson Public Library staff, you are giving permission for your work to be posted on the library's website https://www.hutchinson.lib.mn.us/.
The author retains all rights to the poetry and permission must be obtained directly from the author before any poem may be shared beyond the library's web page.
To maintain patron privacy, poetry posted online will be identified only with the patron's first name. This is not a poetry contest but rather an opportunity to share the talents of the community and to celebrate National Poetry Month.
Submission Guidelines:
* Poetry submissions will be accepted April 6-April 30, 2020.
* Language and content need to be appropriate for all ages (i.e. no profanity or explicit content)
* Writers may submit up to 3 poems each week.
* If guidelines are met, a single poem will be posted online each week by each participating writer.
Other poems may be posted online as space allows.
* Each poem should exceed no more than 50 words (unless otherwise indicated by the topic, i.e. haiku)
* The poem must be an original work written by you, not someone else. Plagiarism will not be tolerated.
* All poems will be reviewed by library staff before posting. If guidelines are not followed, library staff reserves the right to not post the poem online.
* To submit your poem, please email katy.hiltner@pioneerland.lib.mn.us
* The Community Poetry page will be maintained by the Hutchinson Public Library for a determined period of time. After the established timeline, the Community Poetry web page will be removed from the library's web site.
* * * * * * * * * *
Haikus
My Haiku by Sue
Wind sings through the trees
Evergreens gracefully dance
My heart is at peace
                   * * * 
My Haiku by Mali
I'm teaching my kids
Sewing masks for my neighbors
Home is not boring
                  * * * 
"A Moment Before Light" by Rachel
Fog sinks low to earth,
clouds press closest before the
sun burns through the mist.
                 * * * 
Our Haiku by Liam and Wyatt (while eating breakfast)
Syrup is the best.
But not on some occasions.
Syrupy pancakes.
                * * * 
Our Haiku by Owen and Emma (with the help of big brothers)
People like tigers
Tigers can roar super loud
Tigers are cool cats
* * * * * * * * * * 
6-Word Poems
My Poem with 6 Words by Paula
Stay home,
And write a poem!
 * * *
"Poem" by Rachel
Write, erase, crumple.
Uncrumple; rewrite.
Poem.
* * * * * * * * * * 
Color Poems
"An Ode to Yellow" by Paula
Yellow makes me smile.
It is the color of sunshine.
Yellow can be warm, radiant, comforting, vibrant, soft, dazzling.
If I could smell yellow, the scent would be lemon or honeysuckle.
If I could hear yellow, it would sing like a canary, quack like a duck,
or simply exclaim, "Cheer up!"
If I could taste yellow, the flavor would be banana or pineapple or buttery corn on the cob.
If I could touch yellow, it would feel soft as a baby chick or smooth like a glossy raincoat.
But I can SEE yellow!
Daisies, golden arches, sunflowers, school buses, dandelions, taxicabs, daffodils.
And when I do, when I SEE yellow, ALL my senses are awakened!
* * * * * * * * * * 
"School Building Lament" By Paula
I see no children, backpacks, lesson papers, smiles.
I hear no chatter, laughter, singing, shouts.
I smell no hot lunches, art supplies, science experiments, sweat.
I taste no Tuesday tacos, sore throat pops, breakfast pizza, project room brownies.
I feel no scraping chairs, bouncing balls, wet boots, dropped books.
I am empty and alone.
I am a school building during the Covid-19 pandemic.
"Home" by Nicole
Not a place
Not even a person
Simply me
No shields, no filter.
 * * *
"Power" by Nicole
I took it, accepted it all.
Never once fought back
Until there was a reason to.
When it came,
They found the strongest.
A girl, I am.