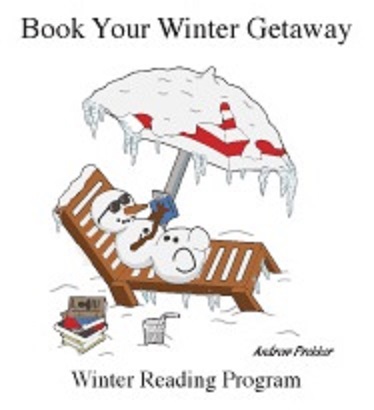 With Christmas just a few days away, can the Adult Winter Reading program be far behind?   The theme this year is  "Book Your Winter Getaway."  Participation in this program is a fun way to enjoy reading and using your library.  Register at the library and get a punch card to record the books you read between Jan.5 and March 13, 2015.  You will receive prizes for every 4 books read.   Prizes include a custom-designed mug or tote bag, small notebooks, note cards, chocolate, packets of tea, hot chocolate, popcorn, and more.  If twelve books are read, participants may choose a quality used book.  Those who complete the program by reading 12 books and filling out the book rating forms will be treated to a dessert buffet at the end of the program.
This year Pioneerland Library System and Plum Creek Library System jointly held a contest to create the theme and design the logo   Andrew Prekker, age 15, of Luverne, MN  is the winner of the 2015 WRP Logo artwork contest.  Andrew's artwork was selected from 55 art entries from 32 artists.
We sincerely hope you consider participation in this program — reading is a great way to pass the winter months!  For more information, call Pamela Dille at the library at 587-2368.  Library hours are Monday through Thursday 10 am – 9 pm.; Friday and Saturday 10 am – 5 pm.
Artwork design:  Andrew Prekker, Luverne MN
©PCLS/PLS "Book Your Winter Getaway" WRP
Funded in part by the Minnesota Arts and Cultural Heritage Legacy fund
Non-Fiction Book Club February 2nd
The next meeting of the non-fiction books club will meet at the library on Monday, February 2, 2015, at 5:15.  The topic for the month is "Love Story" Memoirs.   Please check with the library staff for non-fiction suggestions related to art.