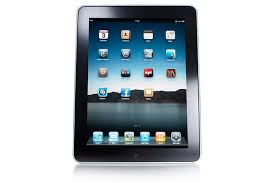 The library is now offering iPads to our patrons!  They can be used to browse the Internet like a desktop or laptop, but are controlled by a touch screen instead of a mouse.  Patrons with current library cards may check them out for use in the library.
There are some great apps to choose from, including the following news apps:  Minneapolis Star Tribune, St. Paul Pioneer Press, CNN, NPR News and MPR News.
Another app is TED, which contains short educational videos produced by a non-profit group.  TED's origins are from a 1984 conference where Technology, Entertainment and Design converged, producing video clips that cover almost all topics — from science to business to global issues
Younger patrons may enjoy the Lego Food, Lego Story Maker, Nursery Rhymes, First Word Sampler, or Minecraft apps.
Kids of all ages may want to try the Bill Nye science, the Toca Band music, or the Toontastic create a cartoon apps.
Many of the apps come with sounds.  To not disturb others, you will want to borrow one of our headphone sets or take the opportunity to purchase your own set of ear buds from the library for only $2.00/pair.  Of course, you can also bring in your own headphones or ear buds.
If you would like to check-out one of our iPads, bring in your current library card.  iPads may be checked out for a two hour period once a day.  As these are shared devices there can be no downloading of additional apps, but we welcome suggestions to add new ones.  You will just need to fill out a very short survey.  These requests will then be tested and approved by the technical staff at Pioneerland headquarters before they can be added.
We welcome you to come on into the library, check out an iPad, and find a comfortable chair to browse the Internet or access one of the apps!  Hope to see you soon!