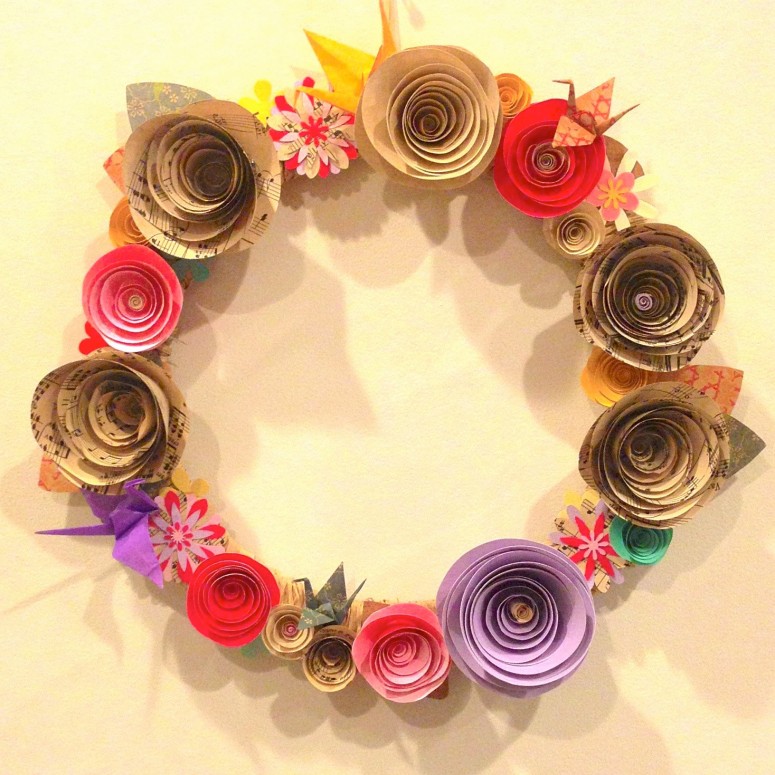 Looking to make an attractive but affordable holiday decoration or gift this season?  On Monday, November 10, 2014, from 6:00 to 8:00 p.m., the Minnesota Historical Society will present a workshop at the library on paper mini-wreaths.   This two hour workshop will include the historical context of paper crafts along with an opportunity for all participants to create a wreath from paper and other inexpensive materials.
The history of paper is traced back to China around 100 A.D.  In the fourth century China began cutting paper for decorative purposes and patterns.  By the end of the seventeenth century paper cutting spread through the trade route to Europe.  A popular and intricate form of paper folk craft in Germany and Switzerland was Scherenschnitte, which literally means "scissor cuts."  This and other related hobbies are still enjoyed today.  Many popular crafts incorporate paper and recycled materials as both an inexpensive and environmental friendly way to create decorative items.
If you would like to participate in this workshop, there is a sign-up sheet at the library.  The workshop is free but limited to the first twenty participants.  All supplies will be provided and light refreshments served.  Hope to see you soon at the library!
Pioneerland Library has some great resources for both adults and children on inexpensive paper and other crafts.  Just a few include:
Simply super paper : over 50 projects to cut, curl, twist and tease from paper / Sandra Lounsbury Foic,
Trash to treasure : [the year's best creative crafts].
Trash to treasure : a kid's upcycling guide to crafts : fun, easy projects with paper, plastic, glass  
Recipe and craft guide to China / Joanne Mattern.
101 crafts under $10 : easy-to-make ideas for gifts and home / from the editors at Butterick.
Easy-to-do holiday crafts from everyday household items / [edited by Sharon Dunn Umnik].
Source:  http://papersave.wordpress.com/2013/03/21/the-history-of-paper-and-paper-crafts/