Key Fob Library Cards Now Available
New patrons will now have a choice between a standard library card or one that includes a key fob in addition to a standard size card.  Existing patrons may "upgrade" to the key fob type for a $3.00 fee.  If you have questions about these options, ask a staff member next time you visit the library.
Minnesota Library Association (MLA) Conference
Members of the Hutchinson Public Library staff and Hutchinson Library Friends organization recently attended the annual MLA conference in Mankato.  There were the usual excellent workshops which shed light on both traditional and cutting edge issues in Minnesota libraries.  One of the highlights was the keynote speaker, Josh Hanagarne, author of The World's Strongest Librarian.  This compelling memoir about Josh, currently a librarian at the Salt Lake City Public Library, reveals his strength through adversity.  He stands 6'7″ tall, competes in strongmen contests, and was diagnosed in high school with Tourette Syndrome.  However, books were his first love.  He travels the country as a speaker, sharing his life story and inspiring all to rise above challenges, great or small.  You can find an audio book version of this title at the library.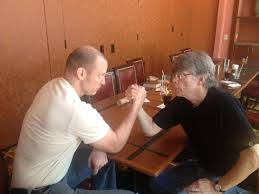 Josh Hanargarne, author of The World's Strongest Librarian, arm wrestling author Stephen King
Newer acquired resources on Tourette Syndrome at the library include:
I have Tourette's but Tourette's doesn't have me [videorecording (dvd)] / HBO and the Tourette
A family's guide to Tourette syndrome / editors, John T. Walkup, Jonathan W. Mink, and Kevin St. P.
 Non-Fiction Book Club
The newly formed non-fiction book club will meet Monday, November 3rd at 5:15 p.m. in the library meeting room.  The topic for this month is "Immigration: Yesterday and Today."  Participants are encouraged to read a book of their choice and share ideas and insights on the topic.  Light refreshments are served and new members are welcome!
MN Historical Paper Craft Workshop
There is still time to register for this workshop on Monday, November 10th from 6:00 to 8:00 p.m. at the library.  Plan to attend to learn more about the history of paper crafts and create a wreath from paper to take with you.  The Minnesota Historical Society produces an excellent program, always well worth the time.  Stop in the library or call 587-2368 to register.  Space is limited.