Curbside pickup of requested items, computers by appointment, and other limited services are available.  Please contact your library for specific information on services provided.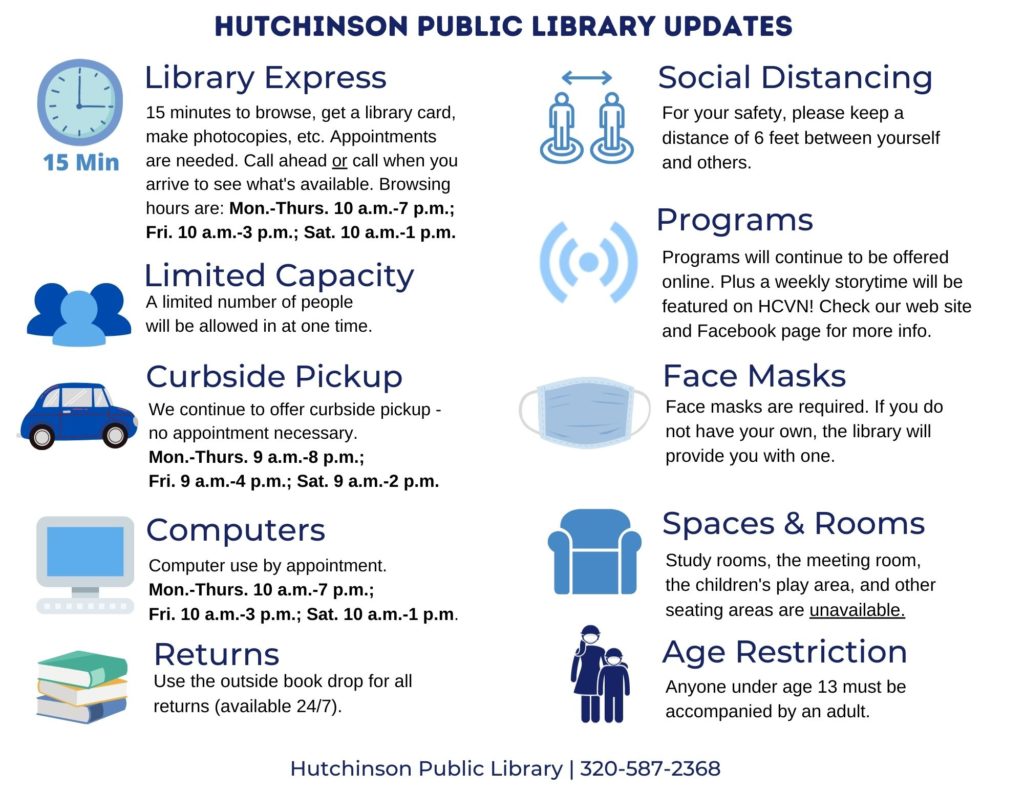 To learn about the library's computer appointments, please click here:
Library Computer Appointments
Do you need to print? Check out the library's e-printer option:
E-Printer Instructions

The Pioneerland Library System Online Catalog is available. To place holds using the online catalog, you will need to create a personal pin number.
For instructions on how to create a pin,
please click on this link:
https://iii.pioneerland.lib.mn.us/screens/help_pin.html
If you have any questions,
please call the library at 320-587-2368.
If staff is not available, please leave a detailed message. Thank you!
McLeod County has set up a phone line for citizens to access important daily recordings with information about COVID-19.cThis line will have a recorded message from Public Health employees, updated daily and/or as necessary, with important information about COVID-19.
To access these recordings please call (320) 484-4369.
State Information Hotline (Minnesota Department of Education and Minnesota Department of Human Services— education and childcare focused questions) —
651-297-1304 (daily 7 am – 7 pm)
Minnesota Department of Health COVID 19 (medical information) —
1-800-651-3903 (times not definite but may be daily 7 am-7 pm)
Minnesota Department of Human Services Line for Child Care Providers–
1-888-234-1268 (8 am – 4:30 pm M-F)